Beautiful double Belarina primula have arrived at the nursery.
Belarina has an exciting new range of fully double fragrant primulas hardy to zone 5.
Vibrant colours to brighten beds, patios,
containers, and
window boxes
from late January onwards.
Great early

season colour.
Enjoy them as a houseplant or give them as a host gift.
Once the flowers fade they may be planted in the garden as they are a true perennial.
David & Priscilla Kerley specialize in breeding patio plants and created these beauties
http://www.kerley.co.uk/index.htm
Laser Series Cyclamen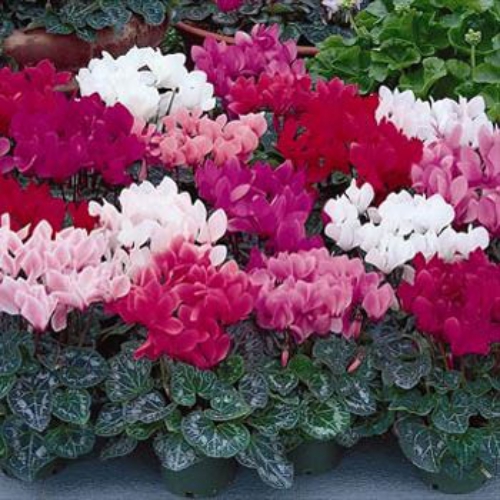 Hardy Cyclamen have never been as big and showy as their florist trade relations. The new Laser series marries big showy foliage and flowers with a hardy plant.
They are in fact the same species as the florists variety 'Cyclamen persicum' but have been bred for species hardiness.The species persicum is marginally hardy in zone 8, so technically is worth a try in a sheltered location in Victoria.

There are no guarantees these beauties will over winter reliably here in Victoria, but I for one will be one of those who just has to try.
Even if they are not hardy they will make an amazing bedding out plant, and companion to the early spring plants. I already love them in containers.
If you can't bear to risk losing them , they could easily be overwintered in containers brought into a garage or unheated greenhouse that will stay above 0 Celsius. I have found cases of them surviving to below -3 Celsius.
I first tried Super Trooper Dianthus 4 years ago and I haven't been able to say enough nice things about this plant ever since. It is an all weather trooper that just keeps on going and going.
I couldn't resist trying it because it looked to good to be true, great big carnation

like fragrant blooms on a compact plant. I couldn't

believe

it was a dianthus.
I put it in a container at my front door,

even though that spot is "too shady" and it thrived, and bloomed and bloomed. It was still blooming at Christmas. I figured it would bloom itself to death, and wondered if it was going to survive the winter.
It took right back up flowering in January, although I must admit the flowers looked like they had been borne of a winter freeze.
I have read this variety is short lived, but my four year old plant is still a marvel to me. It hasn't bloomed all winter again, having settled nicely into the seasons, but it always has a very long bloom period. The first flush is heavy, then it keeps right on putting out blooms all summer.